Great
West
Records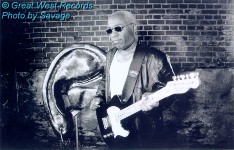 Many thanks to Jackie Butler for sending me the press release and photo...
About GWR | "The Great Unknown" | "The Great Big Noise" | "M.E. Awareness CD" | Ordering Info
---
About GWR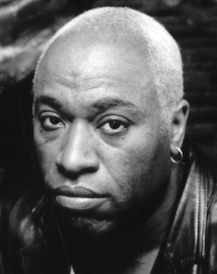 Tony Butler has taken advantage of an agreed hiatus from Big Country to put into action a plan he has been hatching since moving to Cornwall ten years ago. He says: "I've wanted to do this for years and this is my chance, if BC were to keep going without a break I just wouldn't have the time to see this through".
He has set up his own record label "Great West Records" to develop and promote talented artistes from the South West. He said: "The rapid turnover of products by the few major record companies does not allow for development of new talent, particularly in more rural counties. The record industry on the 60s and 70s had a policy to find and nurture potentially successful artistes. It is now obviously too expensive to do this on a national scale, so I'm doing it on a local level."
GWR was officially launched, along with his new solo album "The Great Unknown", on 2nd August '97 at "The Great Big Noise" a showcase at the Cornwall Coliseum followed by a short Tour in October & November.
The first signings to the GWR label have released a mini-album of five or six tracks which have been recorded in Cornwall on digital hard disk and produced or co-produced by Tony and are:
Syrup - a dynamic Cornish band taking the South West by storm with their set of original alternative rock. Their CD is entitled "5" (Cat No: GWR0002).

Caroline Berry - a singer-songwriter who creates tales of love and life with a new country flavour. Her CD is entitled "Glorylands" (Cat No: GWR0003).
Blind Panic - an adult orientated rock group combining classic themes with good old rock and roll. Their CD is entitled "Bodyheat" (Cat No: GWR0004).

Sacred Turf - a five-piece band from King Arthur country providing a magical blend of punk spirit and traditional folk. Their brilliant CD is entitled "Forever Green" (Cat No: GWR0005) and features the tracks: "Old King Cole", "Upside Down", "Forever Green", "Higher and Higher", and "Crazy". They are currently in the studio with Tony recording a second album!

Pelt - a four-piece pop-rock band based around sisters Lana & Bridgitte Rogers. Their CD "Fuzzy" (Cat No: GWR0006) is now available featuring the tracks "Feel", "Don't Make Me Cry", "Another Day", "Toffee Apples", and "Nannie".

Tony said: "I sign acts because their standard of songwriting is very high. I place a lot of emphasis on melody mixed with raw enthusiasm and commitment. I will only sign acts who have the potential to make it nationally or internationally. I would like to think that GWR can be the stepping stone between development and a major record contract."

---

"The Great Unknown"

This is the title of Tony's new solo album which contains a collection of songs that he's written over the last 10 years, recorded by himself with local musicians (although Mark features on a couple of tracks). Tony says: "I've wanted to do this for years and this is my chance, if BC were to keep going without a break I just wouldn't have the time to see this through".


 1 The Great Unknown (6:15)
 2 Living Side By Side (3:02)
 3 I Believe In Angels (4:38)
 4 When The Trees Come Down (4:07)
 5 Mist In Your Moonlight (4:05)
 6 The May Queen Leads Her Parade (4:07)
 7 Pleasuretime (4:13)
 8 Old Money (3:57)
 9 Can You See Heaven (3:25)
10 Oblivion Road (3:43)
11 How Many Times (4:46)
12 The Man With The Hooded Face (4:03)
13 But I Still Want You (4:44)
14 Everyday (5:13)

Total running time (60:18)


Click here to see the lyrics to this album.

Review: Watch this space...

---

"The Great Big Noise"






Click for larger versions

Tony had this to say about this gig: "the thought of appearing 'solo' in front of ardent BC followers fills me with abject horror, but yet, an interesting challenge", so let's all give him our full support!



The "Great Big Noise" was on 2nd August 1997
and a tour was later arranged:


  October
  21st The Grove, Exmouth
  24th Strawberry Fields, Hayle
  30th Plymouth Uni
  31st The Rising Sun, Barnstaple

  November
   1st St. Austell Band Club
   7th The White Hart, Launceston
   8th Lanterns, Ashburton
  14th The Britannia, Plymouth
  15th The Bolton Hotel, Brixham
  20th Rumours, Exeter
  22nd Treyarnon Bay Hotel, Nr Padstow

Review:

I was at The Great Big Noise along with Tony Greco and you can read about our experiences
and see some photos of the gig by clicking here.

---

M.E. Awareness CD

Tony has released the beautifully haunting and moving song "One Day to the Next" (Cat No: GWR0007) on his GWR label in conjunction with M.E. Awareness week (11th - 17th May 1998). Read the press release for more information.

Track 1:
One Day to the Next (Big Noise version)
featuring Lee Ellis (guitar), Jo Knight (backing vocals), Craig Quayle (keyboards), Bridgitte Rogers (guitar, courtesy of Pelt)

Track 2:
One Day to the Next (Instrumental version)
featuring Josh Phillips on Piano
Track 3:
One Day to the Next (Choir version)
featuring Mark Brzezicki (drums), Al Hodge (guitar), Josh Phillips (keyboards), members of the children's choir from Launceston County Primary School, Kate Brown, Sharon Howell, Alex Butler (backing vocals)


Vocals on tracks one and three, bass guitar, guitar and backing vocals: Tony Butler.
Music and lyrics written by Tony Butler (© Bug Music 1998).

Track 1 recorded at Wobbly Studios, Cornwall. Tracks 2 and 3 recorded at Sawmills Studios, Cornwall engineered by John Cornfield, mastered by Roger Wake at Bourberry Wake. Additional mastering, KG Digital Mastering, Devon.

---

Reviews by fans

Let's all support Tony, his family and help 'Action for M.E.'
order your copy now!

Tell GWR you saw them advertised on "I hope you like it!", thanks!

---

Ordering information

Mini CD albums were released on 4th August and "The Great Unknown" was released on 18th August 1997. They are all on sale at record shops in Devon and Cornwall and nationally and internationally by mail order direct from GWR:

Great West Records, Manaton House, Dunheved Road, Launceston, Cornwall PL15 9JE.
Phone: (01566) 772100, Fax: (01566) 772101
Email: gwr@thenet.co.uk

Mini albums are priced £6.50 inc post and packing.
Tony's album is priced at £12 inc post and packing.
Tell GWR you saw them advertised on "I hope you like it!", thanks!

---

Back to the "I hope you like it!" main page