Press Release...... Press Release...... Press Release...... Press Release......
One Day To The Next

A song for M.E. Awareness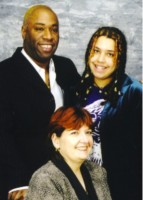 Big Country bass player Tony Butler is marking International M.E. Awareness Week (May 11th - 17th) by releasing his song One Day to the Next.
All profits from sales of the CD single will be donated to support the charity Action for M.E. which supports people with the disease and their families and friends. Tony was compelled to write the song after his wife, Jackie and daughter Joey were both struck by the illness. He said: "It is a song intended to make those who do not suffer understand the devastation M.E. causes to families like mine".
M.E. (also known as Chronic Fatigue Syndrome) affects approximately 150,000 people in the UK alone, including children as young as four. The symptoms include chronic exhaustion made worse by physical or mental exertion, migraine-type headaches, muscle pain, sleep disorders, bowel problems, loss of memory and concentration and multiple food allergies.
These symptoms can fluctuate from day to day and hour to hour, leaving the most severely affected bed bound, and the luckier ones able to carry on with a limited lifestyle.
The most severe of all cases are found in teenagers.
There is as yet no cure for M.E., but a good proportion of sufferers can and do recover in time, as Jackie and Joey have. Early diagnosis is vital because it allows the sufferer to manage their condition before it becomes too serious, giving them a better chance of recovery.
It is with this in mind that Tony is releasing One Day to the Next to promote maximum awareness amongst the public and health and education professionals.
The CD (on the Great West Records label) is available via mail order
at £6.50 (inc UK p&p) from: Action for M.E., P.O. Box 1302, Wells, Somerset, BA5 1YE

or
GWR, Manaton House, Dunheved Road, Launceston, Cornwall PL15 9JE.
Phone: (01566) 772100, Fax: (01566) 772101.

For more information about Action for M.E. please contact
Kerry Tolley, press officer, on 01749 679193.
---
Back to the "I hope you like it!" main page