Big Country are coming home, in more ways than one.
After spending nearly all of the second half of last year in America, the group are now eagerly looking forward to playing in Britain again. their new video for "East Of Eden" also sees them going back to Glasgow - scene of some of their best concerts.
Set in the early '50s, the video is about a family torn apart by economic circumstances; the son has to leave home because he can't find a job.
Played by Stuart Adamson, he makes his way to Glasgow, meeting the other members of the band on the way. There he finally finds a job on the shipyards working as a welder, and he begins to piece his life together.
But back home his father has died, ravaged by drink and despair, and Stuart has to comfort his mother during the funeral.
"East Of Eden" isn't a particularly happy or sad song says Stuart.
"It's a questioning song, a song about always having to look for any hope or inspiration."
Stuart says he wrote the song as a result of living alongside the unemployment and anger in the dockyards and factories.
"The fact that it's set in the '50s makes it doubly ironic, " he says, "because that's when we'd 'Never had it so good'."
The funniest moment of the shoot came when director Mike Brady hired 50 dockers to act as extras in the scene where Stuart is seen as a welder on a huge ship in dry dock. As soon as they collected their money for the day's work they all shot off to the pub.
Stuart Adamson takes a man-sized bite out of his corned beef "grinder" (sausage-shaped sarnie), chews, swallows and grins nervously as he ponders the age-old musical question: "What's your new album like?" A few chews and a bit of thought later, he finally commits himself: "I'm well pleased with it."
"Steel Town" (sic), he hopes, will provide proof - if further proof were needed - that Big Country are more than just a group who sport unaffected checked shirts and make electric guitars sound like bagpipes. "Aye, we've tried to stay away from the old Scottish guitars this time. The album's got a lot more scope than 'The Crossing'."
"I always used to think, can there be any good new music?" adds bassist Tony Butler, "but this LP's turned out so well! The question now is, what can we do after this?"
As the group put the finishing touches to "Steel Town" and prepare to embark on their first British Tour for months, it is clear that confidence is high in Big Country. And that confidence remains based firmly on somewhat old-fashioned, remarkably unhip standards of 'musicianship' and 'technical excellence'.
Sitting in a lively North London public house, statements like "I'm not a pop star - I hate that word; I just want to play me guitar" (from Bruce Watson) and discussions about the "amazing drum sound" available at Abba's studios in Sweden (where the LP was partially recorded) do battle with the weepie Irish country and western ballads seeping from the rather loud jukebox.
The music of Big Country has been described in the past as "uplifting", "stirring", "emotional", and various other complimentary things like that; Big Country music raises the spirits - but it could not do this, insist the members, if they were unable to play their instruments with a certain aplomb. So they practise in private, they polish their instruments and treat them with tender loving care, they rehearse for goodness sake.
Big Country are real, DEDICATED musicians. To find out why, we probed into the backgrounds of the foursome who fly fearlessly in the face of fashion.
A few weeks ago Big Country played a concert in this very hall, but the show was so beset with technical problems (i.e. wonky equipment) that the group decided to give everyone in the audience a free ticket to come back and see them play "properly" tonight. That's nice - so, unsurprisingly, everyone's in a good mood as we hear...
A skirl! A screech! And the "lads" trot on stage in front of a giant, smoky backdrop of a ruined Scottish castle. They pluck one string and - whoosh a billion people hurl themselves towards the stage, leaping and punching the air and bawling the words to "Wonderland". And then it's "Fields Of Fire" - and the audience leap even higher as seats are up-rooted and the bouncers look a mite anxious...
Big Country are in high spirits this evening, with Stuart Adamson and Bruce Watson sprinting all over the stage wielding their guitars and doing monumental leaps and thumbs up signs at the end of every song. And no wonder because the place is packed - and the lads can do nowt wrong.
They belt out their "classics" (letting the crowd do most of the singing), they belt out their new songs, and Stuart looks as if he's going to die of thankfulness at every end-of-song roar, when suddenly - "This is a song about having a sense of humour in times of adversity - it's called 'Touch Me I Want Your Body'. Ha ha!!" Of course he's fibbed - in fact it's a very very long version of "In A Big Country" which stops and starts and slows and speeds up while a lot of the audience in the aisles thump 'n' kick each other (but only for "fun"). And there's encores a-plenty with skirly guitar versions of "Tracks Of My Tears" and The Rolling Stones' (man) "Honky Tonk Woman" - "This is something we don't even know!" Well!
Yip, they've rocked, they've rolled, they've made a lot of people jump up and down for two hours and even though they are a teeny bit predictable, they do, as the Scots would say, "fair put a skirl in yer pipes".
Stuart used to go to Dunfermline Athletic matches with our own Ian "Jock E." Cranna!
---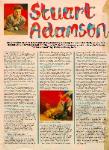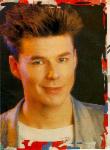 An interview with Stuart Adamson
Smash Hits (?), 1986
So what has Stuart Adamson of Big Country been up to recently? Well, er, quite a lot actually. He's been out on the "road", he's been nearly eaten alive, he's been "interviewed" by William Shaw, he's...
Been nipping about a lot
"We finished the LP, 'The Seer', in February of this year and we've been on the road since March. We did three British tours, we've been to Canada, America, Sweden, Holland, Finland, Norway, Denmark, Germany, France, Italy, Belgium, Switzerland... We've been to lots of places."
He hasn't been giving two hoots about people who say that all Big Country's songs sound the same
"I don't give two hoots about it. It really doesn't trouble me at all. I don't make records so that people can say to me 'God! Isn't that startlingly like Big Country!' Who else is going to make records that sound like Big Country? We are Big Country! (Laughs) Our songs are all different. What's the same is the commitment. Take the song 'The Seer'. It's nothing like 'Hold The Heart' or 'Look Away'. If people say they sound the same, that's their opinion. Opinions are like aresholes. Everybody's got one."
"He's been talking a lot about commitment"
"I think that's part of the reason we've been succesful. There's a commitment in the group. If there's one thing that runs through all of Big Country's work it's that it's all done with the same amount of commitment and excitement and genuine feeling. People identify with that. Too many people go far too low as a common denominator and think of 'the kids' as some mass of mindless morons. There's a responsibility to create music that's worthwhile and lasting and invokes a sense of involvement in the real world rather than some fictitious desert island... (pause) But then again, it's only bloody pop music..."
He hasn't been worrying whether he's trendy or not
"The first band I ever went to see was Led Zeppelin. It was at the Caird Hall in Dundee in 1972. They're a bit trendier now but it wasn't easy to explain that 10 years ago in the heady days of punk. Things always go in cycles, don't they? Maybe in 10 years Big Country will be trendy. Do I want to be trendy? I'm not really fussed. We're trendy in my house and that's what matters!"
He's had another baby
"My daughter was born last year, just before I began work on 'The Seer'. There's a lot of work in the house when there are two children to be brought up. Am I domesticated? I don't know - you'd better ask Sandra (i.e. Mrs. Adamson) about that."
He's been fishing
"Yeah, I'm heavily into fly fishing..."
...And he's been riding around on motorbikes
"Yes. And I've been sponsoring the Big Country Motorcycle Racing Team which did very well this year. One guy finished fourth in the National 1300 Production Championship and another guy won the MCA Production Championship which was splendid. I try to ride when I can. Do I ever fall off? Falling off is part of it. I've been in a couple of accidents but they've never been anything major. i was coming down to do Pop Quiz one day and it was wet and I was late for my plane. i came off going round this corner - I was leaning too far. i had a few stitches in my arm. I've never been seriously maimed though."
He's turned down a position on the board of Dunfermline Athletic Football Club
"They offered me it which was really nice but if I was going to do it I'd have to do it properly or not at all. So I had to pass on it, but at least it's made me friendly with a few people in the club. It was nice to be asked to help but I'm not into half-doing things. It's good to see that they're doing so well though: they're at the top off Division One in Scotland and if they carry on the way they're doing they'll be in the Premier League next year. I always try to go if I'm at home; I've seen five matches so far this season. I'm not really interested in football though because of the 'Eeeh ver lads!' - that terrace thug's idea of football. I actually enjoy watching the game. I think it's a splendid sport."
He's been recording a film soundtrack
"It took me up to the end of March last year to finish the score for this new film Restless Natives. We had a few arguments with the director and stuff because I'd written almost two hours of completely original music but they wanted to put on all this older Big Country stuff. I was going 'Look, I've written this stuff and it goes much better with what you're trying to do,' but it caused at bit of hassle at the time. the film suffered from it as well, but I like the finished product. The script is excellent."
He's grumpy in the mornings
"I'm a terrible man in the morning. I'm appalling. If I get up early enough it's OK - about 7 o'clock. Otherwise I'm the most crabby so-and-so you've ever met in your life. Everyone who knows me will verify that. i'm absolutely hopeless."
He's been reading poems by a bloke called Hugh MacDiarmid
"He's a Scottish poet, or he was a Scottish poet: he died a few years ago - and he was also a founder member of the Scottish National Party. Reading his poems gave me the idea for 'The Seer'. He had this idea for a Scotland that was modern and vital and outward-looking and not one that was just a sentimental picture of clans, whisky and bagpipes - a country that was part of the world. I don't think I can ever put things as well as he did..."
He hasn't been eaten by a shark
"No. The closest I've ever been was in Miami and that wasn't very close at all. The story got blown up a bit. It was quite amusing. We were on the beach at Fort Lauderdale and suddenly the coastguards began hollering for everyone to get out of the water quick. I was miles out at sea. You know that feeling you get when you're swimming in the sea and you think 'My God! Is there something underneath?' I was crapping myself."
He's been listening to records
"I'm currently into The Smiths. I think that 'The Queen Is Dead' album is a masterpiece. I think Morissey's lyrics are amazing. The way he gets his ideas across is splendid. I always liked Johnny Marr's playing but I could never get to grips with Morissey - but that album's really hot..."
He's been watching the news on telly
"Yes, I'm an inveterate news watcher."
He's been having trouble with his ticklish eyelashes
"I've got these devilishly ticklish eyelashes. It's hell when I'm being made up for photo sessions." (Make up artist who's making him up for Smash Hits photo session: "Really? I've never met anyone with ticklish eyelashes before.")
He's released a new single, "Hold The Heart"
"It must have been almost a year and a half ago that I wrote it. It was the third song that I wrote for the LP. I remember thinking I wanted to write a very ballady song, something that people would never think of as a Big Country song, a very direct boy/girl lost and found song."
And now he's off on tour again!
"I never get tired of the actual physical act of going on stage. I don't think we've ever played so well as a group as we have this year. But the travelling is a bit of a bind after a while and I do get very homesick. I'm too old for all that travelling around. What do you mean I'm not supposed to say that? I thought I was allowed to say what I liked. I thought I was in a position of infinite power, I thought I was blessed with God-like powers... That's what it says in the guidebook to being a pop star..."
---


A bush in the country
By Bruce Watson
Tracks, 1986
We started writing the material for this album about August/September of last year. We did about six weeks actual writing of the album. There'd been a few ideas kicking around all year which we'd saved up - guitar riffs and things which we'd stuck on cassettes or a Portastudio, individually. So we had a few good ideas and took them into the rehearsal studio to work on them. We'd just sort of use the various parts we'd written until we were ready to go into the studio and record. We booked ourselves into RAK Studios to do the bass and drums because Mark, our drummer, particularly likes the drum room at RAK Studios. We did the guitars and vocals at a place called The Power Plant in Willesden which is owned by Robin Millar, who produced the album.
I think that took us up to around February, then we decided to mix the album at Maison Rouge Studios and we got an American guy called Walter Turbet, who's worked with The Cars and Malcolm McLaren.
The songs are written in different ways. Sometimes the four of us can be in soundcheck, just jamming, and one of us will come up with a riff and we start jamming around that. Sometimes either Stuart, myself, or Tony will have a guitar riff or a bass riff and we'll start playing it and the other three members will start jamming along. Sometimes Stuart might have the whole arrangement to a song written on cassette which he'll bring along to the studio and we'll add our own little bit on to it. Sometimes it's been known that Mark will go in a recording studio and put down a drum part and the rest of us will go in and do something on top of it. So it works in different ways, we don't have a set formula and a lot of stuff happens accidentally.
Making the album was enjoyable, although it can have its problems as well. It's not all plain sailing, but it's really good productive work to make an album - and you can see, when you're actually writing a song, you can see the song shaping up and building up and it's very satisfying. It's the most satisfying thing in the world at the time and then when you go out on tour the most satisfying thing is actually playing it in front of people.
The Power Plant's got good facilities for relaxing. they've got a little pinball room, a TV room upstairs, little individual rooms where each member of the group can sit if he want's to be alone. If somebody, say Stuart, wants to be alone to write lyrics, or if one person was sick of the rest, there are plenty of little rooms and annexes where one can go and be by themselves or whatever. But when we're actually in the studio, there's usually a couple of us there all the time because we never actually play live when we're in the studio. So it's not as if everybody has to stay and get bored with hanging around all the time. What we actually do is, we usually lay down a quick track which Stuart and Mark will usually work out for timing. Then either myself or Stuart or both of us will put down a guide guitar, or two guide guitars. Then Tony will put down a guide bass and Mark will play along to this on his headphones. So it's not as if we're asked to play live. Then Tony will usually put down his real bass, which only takes him a couple of hours. Tone's really quick. The next couple of days are usually spent doing the guitars. Then, when Stuart's got the lyrics ready we'll come back and deliver some good backing tracks.
'Eiledon'
The female vocals were done by a girl called June Miles-Kingston who used to play drums with Feargal Sharkey and The Fun Boy Three. She's got a really good voice that compliments Stuart's. A lot of people think the start was done on keyboards, or it sounds like that. But it wasn't really. Stuart used E-Bow on it and Tony used bass pedals and I put my guitar through an old Leslie cabinet and miked it up so that I got the reverb of piano strings as well - so you've got a good sort of organ-type sound, sort of ice rink or cinema type organ sound on it as well. We did a few wierd things with guitars and pedals on this song, and the song itself is about a perfect place to live, a perfect place to be.
'Hold The Heart'
This was my problem song, actually. I had to spend three or four days actually doing the guitar on it. I came and played twelve-string on it and it was like and old Fox Phantom I was playing on and the tuning was just impossible, you know. You'd tune the guitar up and strike a chord that would go out of tune, so I had to play each chord near enough individually, so it took a couple of days to record. I think it'll be one of the singles to be taken off the album.
'Look Away'
The idea for the song was taken off a video Stuart watched called "Harry Tracy". It starred Bruce Dern and was about the last of the Wild Bunch, who were sort of outlaws in America. It's pretty straightforward recording really, with no sort of weird tricks or gadgetry on it.
'One Great Thing'
This is a sort of typical Big Country sounding record. It can mean anything great that's happened to you in your life, I suppose. This is also a very straightforward number.
'Remembrance Day'
Yet again we have the great vocal talents of June Miles-Kingston on this one. We put some nice effects on the guitars. I actually used the immortal chords guitar synth on that one to get a sort of pipes effect - but not a bagpipes effect, just a sort of flute-type effect on it. Different weird and wonderful things happened on the guitars on this track. We had my guitar triggered off Mark's hi-hat and put a little bit of an echo on it to make it sound like fiddles. It was good because the middle section of the song is very moving because of that, because we were triggering different instruments off each other. It was one of the first times I've ever done that and it worked very effectively on this track.
'The Red Fox'
This features the sort of famous twin-lead guitar sound of Big Country, I suppose. Straight sort of guitar harmonies, almost Thin Lizzie-ish in parts. Yet again, at the end section there, triggering of a lot of odd guitar sounds from Mark's tom-tom this time. I also played slide guitar on this which turned out to be quite effective - and we also had the great kebab middle-eight section - which is good for the kebab seller!
'The Sailor'
I played mandolin on this song and it's one of our slower, softer pieces. It starts off really sort of nursery rhyme-ish, sort of ballady, and ends up in a sort of Meatloaf thrash towards the end.
'The Seer'
We'd done the song and one of our mates, a guy called Davy Duncan who used to play and sing in a band called The Shaking Pyramids, put down Barrad which is a sort of ethnic Scottish-Irish type hand-held drums - and it gave it a sort of folky feel, along with the mandolins and sitars. We thought 'this song needs girl vocals on it' and Stuart immediately thought 'why don't we get kate bush?' We said there's only one way to do it and that's phone her management. They said that Kate would do it but she'd like to hear a cassette of the song first. So we sent a cassette there and she liked the song and she worked out her parts for the song, orchestrating them really well. Then she came to the studio and did them, it took her about twelve hours to do and it was just great, it was fantastic. I think the woman is just a complete genius. She was very shy. I think we were quite sort of awestruck as well when she walked in. Tony was like 'Oh, hello Kate, would you like a cup of coffee, would you like a glass of orange juice?', running about saying things like that. I think we were quite shy, she was quite shy as well. But she was good fun, she's got a very 'Comic Strip' type sense of humour which we immediately identified with and after that it was a great time.
'The Teacher'
This track has Stuart's famous Duane Eddy-cum- Hank Marvin type guitar sound on it.
'I Walk The Hill'
This started off as a Big Country parody of ourselves. We were sitting thinking to ourselves: 'Let's do a parody of 'Fields Of Fire' or something like that'. So we just started playing these guitars on a typically Big Country style, with the drum beat and Tony playing typically cod-work bass type stuff and it actually ended up sounding quite good. We decided to use it, so what started out to be a joke in a way turned out to be really good.
Bruce Watson
---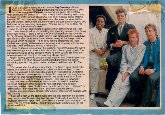 General chat about life & "The Seer"
Smash Hits, May 1986
"It's all a bit disorientating for me," admits Big Country's Stuart Adamson, shaking his head and tucking into one of the many Cokes he drinks these days (he gave up alcohol last year). He's not that keen on event's like Montreux - "I find it really hard to be witty and chatty because I'm pretty serious about what I do and I'm really bad at making jokes on TV". And he's even less keen today because the virus that he, his wife Sandra, son Callum, daughter Kirsten and just about everyone else he knows all got is coming back again. "It's like the flu," he sniffles, "all shivery, and sore limbs and tired."
Even so, he's still enjoying life a lot more than at the end of their last tour. "I was heartily sick of the travelling and spending so much time being away from home - I draw a hell of a lot of inspiration from my home life." So Big Country stopped for a while (and, it was rumoured, may even have split up for a short time) while Stuart started doing all the things outside the group that he values - "a bit of fly-fishing, supporting the local football team, going to the motorcycle racing and shopping with my wife and kids." And, eventually, writing a few songs.
"I think I'll always write songs," he explains, " to comunicate the way I feel about things and to show a little bit about the culture I grew up with." In particular, the area of Scotland where he grew up and still lives and where people treat him "just the way they always have".
Finally, having gathered enough songs together and taken long enough off to "create a bit of an aura around the band and make this new album something special", the group met up and recorded their new LP "The Seer".
"It's named after the album's long track, 'The Seer'," says Stuart. "It's based on a tale of a Scottish woman called the 'Bramin Seer' - I don't know how you spell it. She was like a Scottish Nostradamus (mediaeval French bloke who predicted lots of "things") in drag, and the song's about some of her prophecies coming to fruition. We asked Kate Bush if she would come and sing on it and she agreed - she was just amazing."
And now he's ready to start all the promotion for the LP, and the travelling and the touring that he grew to hate last time. He's already beginning to miss home: "I still phone my wife twice a day...at least," he admits shyly. "I love her, you know. She's my favourite person."
But he also says there's almost nothing better than running onstage with Big Country.
"I still get a rush up the spine every time we play together. It's become very unhip to say 'I love to play live' but I do. That's why I wanted to be a musician in the first place. And I can't think of a better band to play in," he grins. "It's not embarassing. I find it very spiritually uplifting and I'm not afraid to admit it."
---
Fife, Dunfermline to be exact, home of... erm, Big Country! OK, so Debbie Gibson is only 16, writes her own songs, and makes quite a bit of dosh out of them too, but did you know that Stuart Adamson of Big Country started writing songs at the age of 13? nah! Bet you didn't!
Don't suppose you realised that the theme music for the very funnee film "Restless Natives" was written by Stuart and performed by Big Country, either, did you? Clever chaps these Big Country lads. But that's not all: Big Country have appeared at the Prince's Trust Gala at the Wembley Arena, appeared on stage at the finale of Live Aid, supported David Bowie on tour, and had their song "One Great Thing" used as a theme for a Scottish-type advert. Not a bad set of achievements for the four piece Scottish band with the distinctive bagpipe guitar sound. (Ner ner ner ner - ha ha! - Jackie Office.)
Ahem! Now we know all that, what about their singles? What kind of record success have they had? Well, a lot more than you think! Fields of Fire, Chance, Wonderland and Look Away have all been top ten hits, with In A Big Country, East Of Eden, and One Great Thing, all reaching the top twenty. They have also had several other songs in the top thirty. Not bad for an ordinary working-class bunch of lads who "just want to be musicians, not rock stars".
So where do these talented blokes come from? - Dunfermline of course - city famous for dead millionaire Andrew Carnegie and Dunfermline Athletic Football team. (Oh really? Ha ha! - the Ed.) In fact, many's the time Stuart's been spotted on the terraces at Eastend Park (Dunfermline's football ground, dummies!) shouting with the best of them... Here we go... here we go...here we go!... Enough of these football chants. This is a music page, you plebs!
Now, if you want to know more about the boys of B.C. look out for their official book "A Certain Chemistry" in most good bookshops.
Bye Bye Dunfermline, ...Look Away...Look Away.
---
Back to the "from the archives" page
Back to the "I hope you like it!" main page